Buckeye Lake Of yesteryear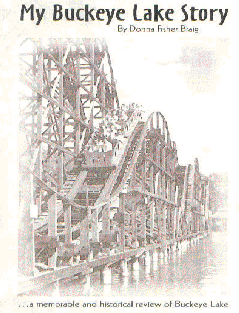 ACKNOWLEDGMENT
This site would have never been possible without the help and the wonderful book that contains such a wealth of information written by
Donna Braig . A selection of which are included with her permission."My Thanks Donna"
Thanks to Chance Brockway for some of the wonderful photos on these pages.
Greater Buckeye lake Historial Society
Thanks to everyone involved with the society for all the hard work they put in to make it such a wonderful place to visit.

Donna's book can be purchased by clicking on the New Concord press icon above
My Buckeye Lake Story
a memorable and historical review of Buckeye Lake,Ohio
4729 Walnut Road P.O. Box 1 (Route 79)
Buckeye Lake, Ohio 43008-0001
Phone 740-929-1998
hours Saturday and sunday 1 till 4
Web site by
Herb Riggle

Contents of this web site and all original works are copyright ©2000