THORNPORT RENEGADES




RON & SANDY BOWMAN (MILLERSPORT), DAN & GAIL BROWN (MILLERSPORT), BOB & HOPE COLEMAN (THORNVILLE), DAVE & DIXIE COVENTRY (NEWARK), INSTRUCTORS - TOM & PAM McKENSIE (THORNVILLE), BOB MILLER(THORNPORT) & CAROLYN WALTERS (NEWARK), BUD & SHARON MOBLEY (THORNVILLE), PAUL & JO OCCHIVZZI (JACKSONTOWN), HERB & PHYLLIS RIGGLE (NEWARK), RICK & BONNIE ROBERTSON (THORNVILLE), KEN & NANCY STOVER (THORNVILLE), EVERETT & ELEANOR TRACY (NEW LEXINGTON) AND LORETTA WELLS (WESTERVILLE).
THORNPORT RENEGADES ARE A GROUP OF FUN PEOPLE WHO ENJOY EACH OTHERS COMPANY AND DANCING. WE MEET ONCE A WEEK TO PRACTICE AND LEARN NEW DANCES. OUR INSTRUCTOR WINTERS IN TEXAS WITH ANOTHER GREAT GROUP FROM ILLINOIS AND ARRIVES BACK IN OHIO, THE BEGINNING OF APRIL, WITH A BOOK OF NEW STEPS UNDER HER ARM TO TEACH US. WHILE SHE'S GONE, DIXIE CONDUCTS WINTER REVIEW CLASSES. EACH JUNE THE RENEGADES TRAVEL TO ILLINOIS FOR A WEEKEND OF DANCING AND SOCIALIZING, THEN IN SEPTEMBER THE ILLINOIS GROUP COMES TO OHIO FOR THE SAME. A GOOD TIME IS HAD BY ALL.
THURSDAY NIGHT IS CLASS NIGHT. WE MEET AT
AMVETS POST #51, IN THORNVILLE
, FOR TWO HOURS OF INSTRUCTION. LINE DANCING IS FROM 7:00 TO 8:00 AND COUPLES FLOW DANCING FROM 8:00 TO 9:00. FRIDAY AND SATURDAY THE POST HAS A BAND AND WE GET TO TRY OUR DANCES, NEW AND OLD. SOMETIMES THINGS ARE PRETTY HILARIOUS WHEN WE'RE TRYING NEW STEPS AND SOMEONE'S BEEN CELEBRATING A BIT TOO MUCH.
HAVING SUCH WONDERFUL FRIENDS MAKES OUR LIVES SO MUCH MORE INTERESTING. YOU JUST NEVER KNOW WHAT SOMEONE'S GOING TO COME UP WITH NEXT- A SUNDAY TRIP TO A RIVER BOAT CASINO - A HAIRY BUFFALO PARTY - A BOAT TRIP AROUND THE LAKE - A DELICIOUS DINNER AT A RESTAURANT OR ONE OF THE GROUPS HOMES - AN INTERESTING EVENING OF WIN, LOSE OR DRAW - OR EVEN BREAKFAST, AT ONE OF OUR HOMES, AFTER WE FINISH DANCING IN THE EARLY HOURS OF THE MORNING.
WHO WOULD WANT TO GO BACK TO LIFE BEFORE THE RENEGADES?????????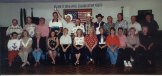 Click on photo for full size view



"Country is more than just a dance.
Its the way you act, and the way you treat others."